Cold Laser Therapy In Ancaster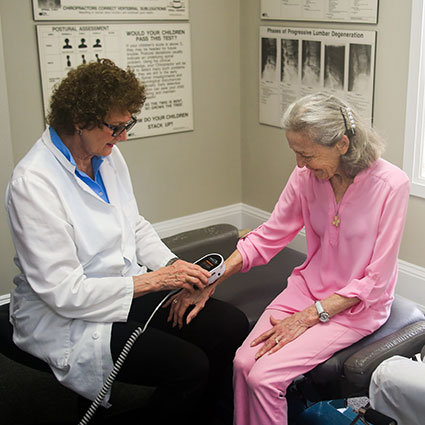 Cold laser therapy is a drug-free approach to repairing damaged tissues. This modern technique uses state-of-the-art technology to stimulate the affected region at a cellular level and trigger cell regeneration. As a result, you'll experience reduced inflammation, faster healing, and better health overall.
Safe and Powerful Healing Results
Cold laser therapy is completely safe, with a success rate of over 90%. It can speed up your recovery significantly. Many patients report pain relief after just a few weeks.
Our powerful lasers penetrate over four inches into the body, bringing healing to even hard-to-reach damaged tissues. This technique has no known side effects, while its life-changing benefits can give you a new lease on life.
NEW PATIENTS

Boosting Wellness at the Cellular Level
Many patients choose this therapy because it repairs injured tissues, reduces inflammation, and helps relieve pain.
It can also boost immunity at the cellular level and improve joint mobility.
Our technology also reduces the formation of scar tissue caused by injuries, burns, cuts, and surgery. By speeding up the reabsorption of fibrotic tissues, it accelerates the healing of wounds so you can get back to the activities you love right way.
Helping You Reach Your Health Goals
At Ancaster Cold Laser and Chiropractic Clinic, we'll start by assessing your condition and screening you to make sure there aren't any contraindications for care. Dr. Sloat will then talk to you about your condition and whether this therapy could aid in your recovery.
Laser therapy is effective for a wide range of conditions and injuries, since it unlocks the body's natural healing mechanisms. We've seen it work wonders for patients with arthritis. It can also stimulate specific points in the ear and other parts of the body to release neurotransmitters that help break the cycle of addiction. When combined with counseling, conventional treatment, and behavior modification, cold laser therapy is one effective tool that can help patients lose weight and overcome troubling addictions.
Speed Up Your Healing Today
We want to see our patients thriving and embracing life. Combined with chiropractic care, cold laser therapy can help you do just that. Schedule your first visit now.
CONTACT US

Cold Laser Therapy Ancaster ON | (905) 304-8687