About Ancaster Cold Laser and Chiropractic Clinic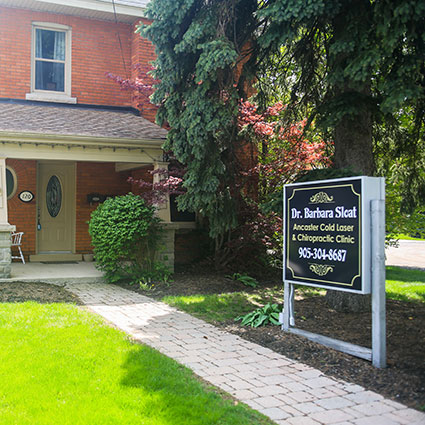 Our mission at Ancaster Cold Laser and Chiropractic Clinic is to care for people with dignity and respect, educating our patients on the best possible solution for their health. We use effective hands-on adjustments to restore your spine to proper alignment and help you achieve maximum wellness.
No problem is too small to deserve our full attention. We make sure we hear exactly what your concerns are so we can offer you the best care for your needs. Some of our patients say Dr. Sloat is the first practitioner who really listened to them.
We're thorough in everything we do, going above and beyond to meet your needs.
Making a Precise Diagnosis
We make accurate diagnoses by putting together every puzzle piece and fitting them into a picture that makes sense. We don't stop until we discover the root of the problem.
One elderly woman came in with back and hip pain. She'd had MRIs done of her back, but when Dr. Sloat asked her to point to where it hurt, she indicated her hip.
Suspecting a more severe problem, Dr. Sloat sent her for a hip X-ray, which revealed that her hip was dying from a dwindling blood supply. She saw a surgeon the next day and felt great again after a hip replacement.
Always Putting Your Needs First
Dr. Sloat deeply cares about every patient and treats you like a member of her family. While she has a lot of energy, she keeps the office calm so you can relax.
A native of Ancaster, Dr. Sloat has had her practice in the current location for 10 years. She's upfront in explaining your problem and your options. We'll refer you as necessary, partnering with other physicians to make sure your health concern is properly addressed.
During Covid-19, Dr. Sloat personally called family doctors who weren't seeing anyone to advocate for patients with strep throat who needed treatment. She goes the extra mile to make sure you're always taken care of.
Book Your Appointment Now
We'll do everything in our power to help you heal. Schedule today.

About Ancaster Cold Laser and Chiropractic Clinic | (905) 304-8687